Even as a child growing up in a tiny New Zealand town, David Hovey (Illinois Institute of Technology '67) knew he wanted to become an architect.
"There were about 900 people in my hometown, and 100 students in my grade school," he recalls. "One day, during a parent-teacher conference, the headmaster told my parents that since I sketched a lot and was good at math, I should consider architecture. I liked construction, so I figured that made sense."
But life tossed him a curveball: He and his family moved to the U.S. when he was 15 years old. "Relocating across the world was hugely expensive," he says. "So there was just no way to pay for college."
That's when the Pullman Foundation stepped in. David's Pullman Foundation Scholarship took him through all five years of the architecture program at Illinois Institute of Technology (IIT). The IIT program had long been directed by world-renowned architect Ludwig Mies van der Rohe; his influence had attracted Hovey to the school and made it his number-one choice.
"Being your own client" – Founding Optima, Inc.
As it turns out, that choice shaped the course of his career. During his fourth year, one of Hovey's professors introduced him to a new way of practicing architecture. "He called it 'being your own client,' and it wasn't something any of us had heard of before," Hovey recalls. "It was a system in which architects controlled everything – not just design but also land acquisition and construction – so they wouldn't get bogged down in red tape, which is one of the biggest challenges of working in the field."
"I knew I wanted to try it, and I figured it would be easiest to try it early in my career, when I was young and had less to lose."
So in 1978, nine years after graduating, Hovey and his wife Eileen took a giant leap and founded their own firm – Optima, Inc. Using the "be your own client" method, they began by building six townhomes in the Hyde Park neighborhood of Chicago.
Since then, Optima has grown and thrived, building more than 5,000 residential units and seven single-family homes. Hovey is one of just a handful of architects worldwide who acts as designer, developer, and construction manager. He has won numerous awards for architectural excellence and was named a Fellow of the American Institute of Architects (FAIA), that institute's highest honor. In 2018 he won the Luxury Urban Housing Designer of the Year award from the BUILD 2018 Architecture Awards.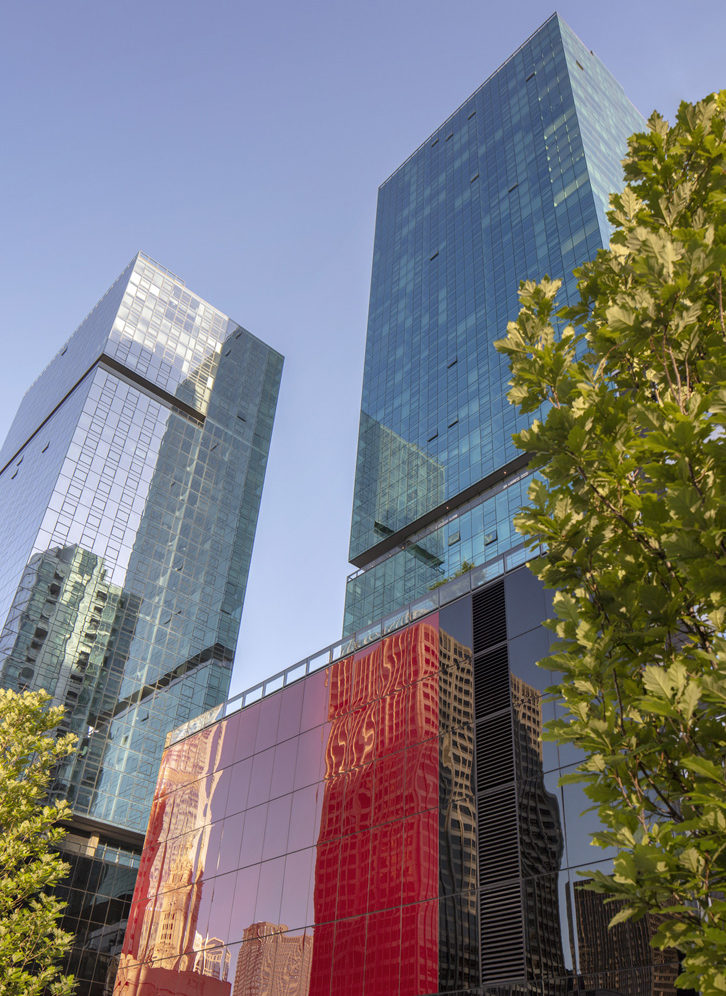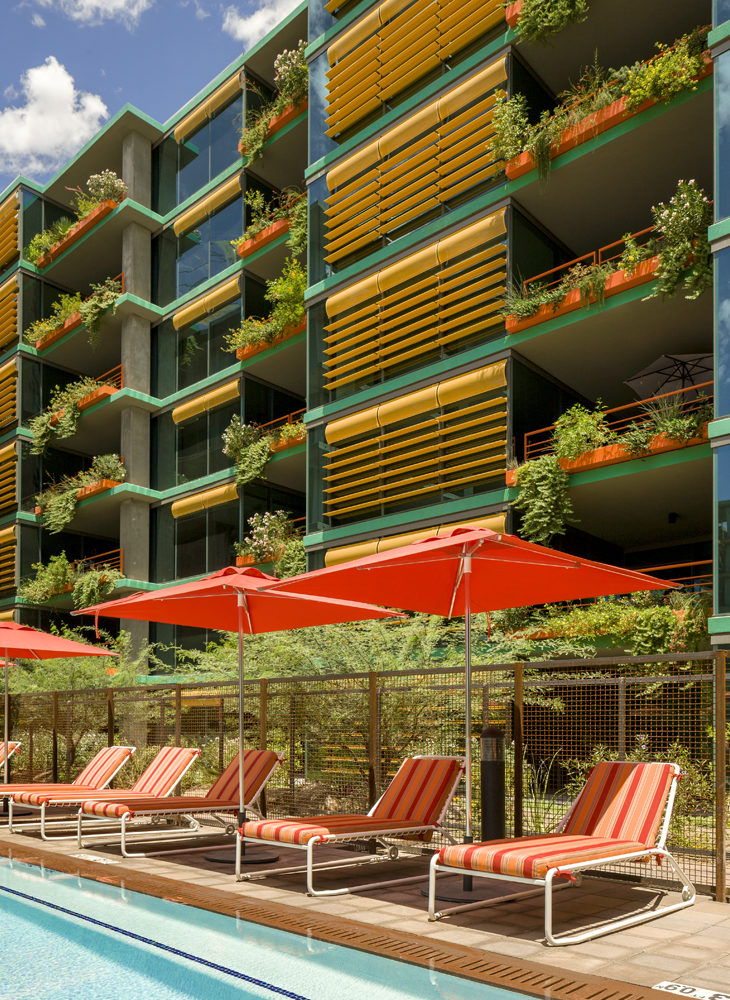 Hovey's classic modern style features abundant natural light and open space. A vocal proponent of employing 21st-century materials, he transforms functional elements like solar panels into beautiful features of his spaces. "I'm always looking forward," he explains. "I have no interest in historical allusions."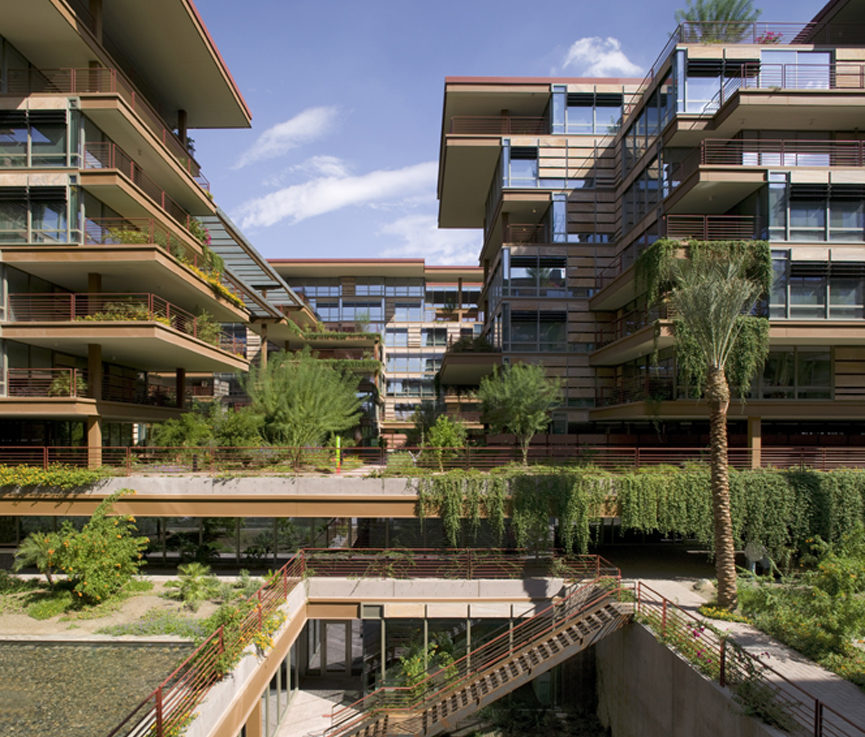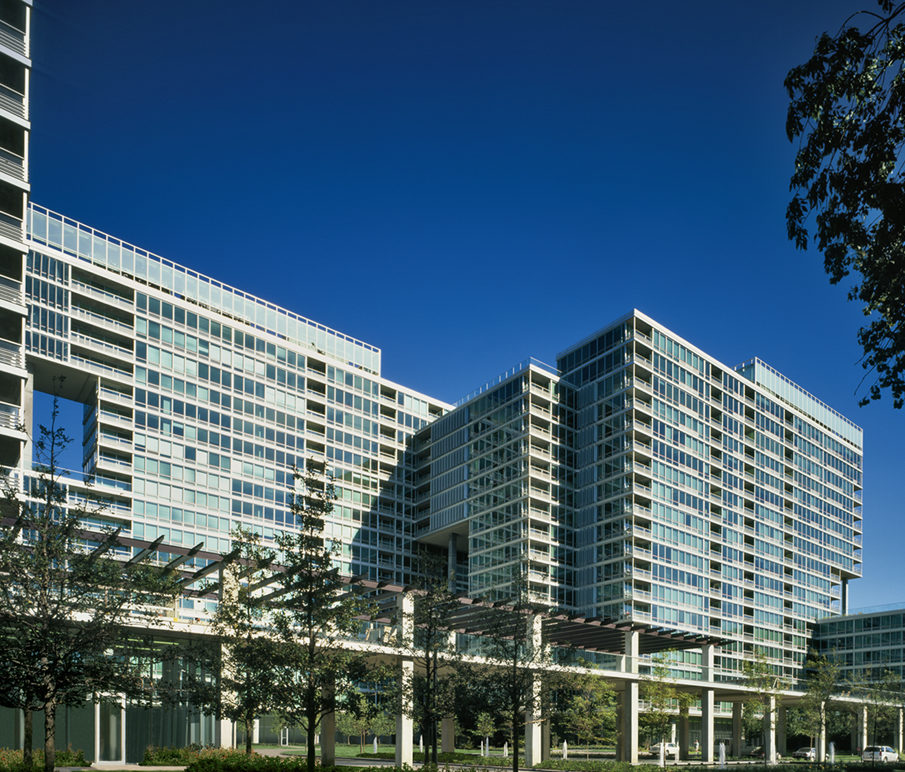 "It takes just one opportunity"
The award-winning architect has also come full circle since his student days, serving on the IIT faculty while continuing to run his firm and remaining true to his passion for designing "astounding and significant structures."
"For many of us, it takes just one opportunity to enable us to accomplish great things. The Pullman Foundation gives people that kind of opportunity – it gives us what we need to make a difference. That's what makes the Foundation so incredible," says the long-time Foundation donor. "I couldn't have done any of this without the Pullman Foundation's help … and I can't imagine a more worthy cause."
When Sherwin Greenblatt (Massachusetts Institute of Technology '62) met with his high school guidance counselor during his junior year, she encouraged the budding engineer to aim high when applying to colleges. "I didn't know much about colleges," he recalls. "When she told me I should look at MIT, I told her, 'I really don't want to go to a Minnesota school.' Honestly. I had no idea."
But with his counselor's encouragement he applied and was accepted to MIT, and with the financial help of the Pullman Foundation, he headed east. "The Pullman Foundation's support made all the difference to me. I could not have gone to MIT without that scholarship. The Pullman Foundation shaped who I ultimately became and where I wound up."
"In hindsight I see that was the best thing that ever happened to me," says Greenblatt, who recently retired as president of the Bose Corporation, "but my first year on campus was terrifying."
Overwhelmed and intimidated, Greenblatt says that as a freshman he wasn't sure he'd ever graduate. But his interest in ham radios and music saved him by connecting him with a wide range of students and faculty who shared his interests. "I got to know them, and I got comfortable with them," he explains. "I found out they were just people like me. We could talk about things that we liked."
His interests ultimately brought him to the office of faculty member Dr. Amar Bose. They shared a love of music and together conducted a variety of experiments to explore the properties of sound. One thing led to another, and when Greenblatt completed his master's degree, Bose invited him to join him as he started a new company.
Joining Bose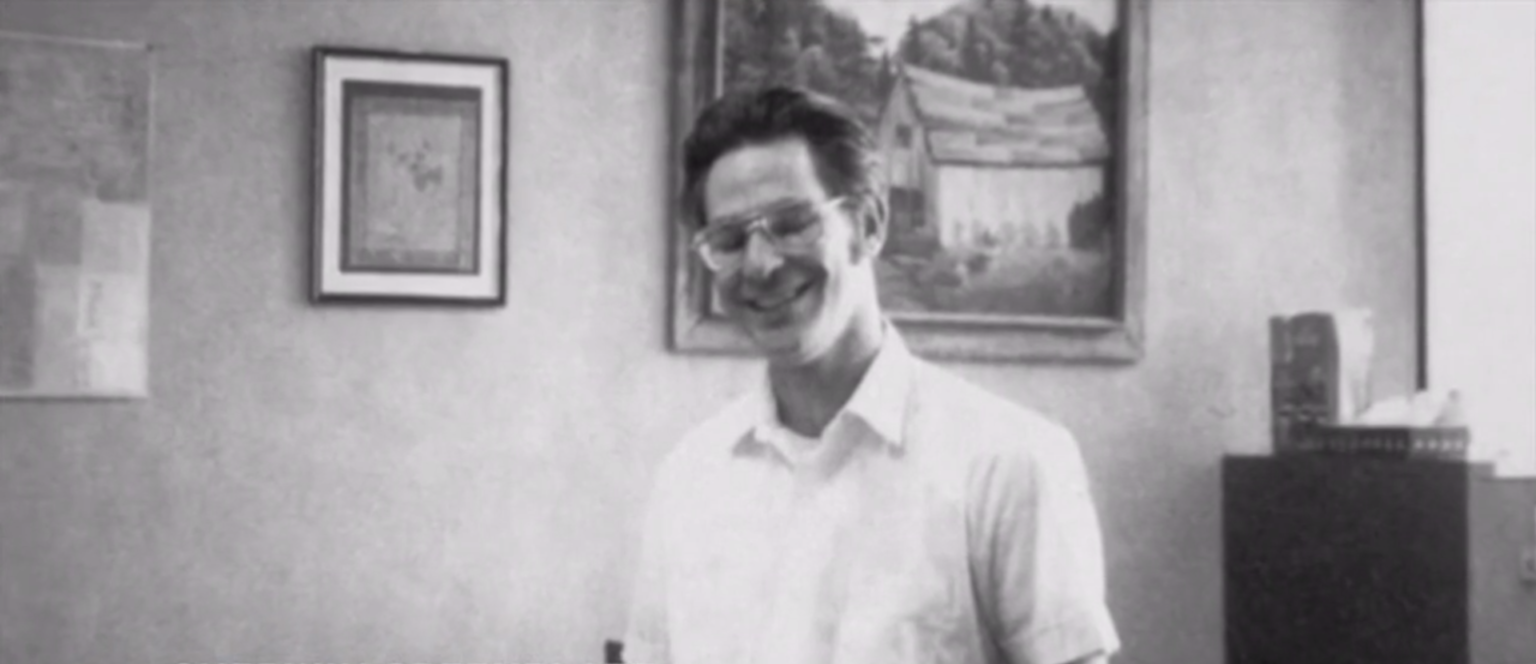 It was a risky proposition. After all, Greenblatt had been planning to launch an engineering career at a time when engineers were in high demand at large, well-established companies. "On the other hand, starting a new company was extremely unusual, and for a professor to start a company was practically unheard of," he says. Young entrepreneurs are common today – but in the 1960s, the vast majority of new enterprises were launched by businesspeople with years of experience under their belts. "New graduates didn't join startups back then; it simply wasn't done."
"Plus, it's hard to imagine living without music today – but music was mostly for geeks back then," Greenblatt says. "Joining Bose was a monumental decision that could take me in a direction I never thought I'd go."
Ultimately Greenblatt decided to honor his passion for music – and the rest is history. He and his MIT mentor started Bose, and over the course of 25 years, Greenblatt rose through the ranks from project engineer to president.
During that time the company also established itself as a legendary force to be reckoned with. Pursuing its mission to achieve "better sound through research," Bose revolutionized consumer audio and quickly became synonymous with exceptional sound quality. By the time Greenblatt retired in 2002, the small startup had grown to an internationally renowned company employing more than 7,500 people worldwide.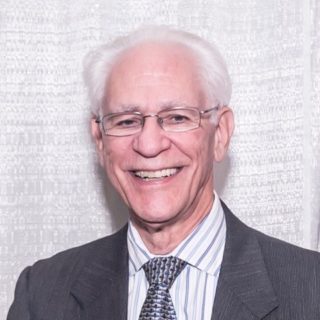 Greenblatt's advice to today's Pullman Scholars?
"If you're interested in something, don't just think about it or read about it. Go to places where it's happening, where people are doing it. That's how you make a difference." And in college, he says, be intentional about volunteering and participating in activities outside of class. "Have a good time – not only for the sake of having fun, but also in order to do something meaningful. Go to college not just to get a degree, but to develop yourself to the fullest. Everyone can do something extraordinary or unusual or exemplary. Everybody has it in them.
"The Pullman Foundation's support made all the difference to me," he continues. "I could not have gone to MIT without that scholarship. The Pullman Foundation shaped who I ultimately became, and where I ultimately wound up."
In the fall of 1964, Gregory Duick (Knox College '68) boarded a Santa Fe train at Union Station in Chicago headed for Galesburg, Illinois. Wearing a red windbreaker jacket and suitcase in hand he arrived in Galesburg and walked to the Knox College campus… and the rest is history.
"My dorm room was on the second floor of the Student Union which once housed World War II soldiers; three students were assigned to a room. I was the last roommate to arrive, the bunk bed was spoken for and I got the mattress on the floor."
Since high school Duick knew he wanted to become a physician and so he pursued a degree in chemistry complemented by courses in art history, religion, philosophy, and history which are at the core of a liberal arts educational experience.
Cofounding Kansas Heart Hospital
Upon graduation, he completed his medical degree at the Loyola University, Stritch School of Medicine and his cardiology residency at USC. During his 30-plus years of practicing interventional cardiology, he was an assistant clinical professor at the KU medical school in Wichita, active in the American Heart Association and chair of the cardiology department for 20 years at Via Christi St. Francis Hospital. His signature and most outstanding achievement was cofounding the Kansas Heart Hospital ("KHH") which opened on February 15, 1999.
As current chairman and president of KHH, Duick states that his idea to develop a heart hospital was rooted in his early years and a "desire for those of us who grew up in the 1960's to make a difference, challenge the status quo and try to make things better." For Duick, the changing medical landscape, which included increasing and intrusive government regulations and consolidation of hospitals into larger health systems, "tended to negatively impact patient care and those who provided that care, namely, physicians, nurses etc. I knew I wanted to do things differently."
Founding KHH was a welcome prescription and "we designed KHH from its beginnings to be a very high quality, patient focused, family friendly and nurse-centered'' facility. KHH was one of the first independent heart hospitals in the US and continues to receive the Centers for Medicare and Medicaid Services highest rating for overall quality and patient satisfaction which is awarded to less than 5% of all acute care US hospitals.
"A dream come true"
And it all began with the Pullman Foundation. "I would not have been able to attend a small private college like Knox without that scholarship," Duick maintains. "And attending the right college turned out to be really important to my personal growth and development." Receiving my scholarship notification letter from then-executive director, John Munger, was a "dream come true." Duick adds, "In 1964, Knox's room, board and tuition equaled $3,000, and my Pullman Foundation Scholarship equaled $800, which accounted for greater than a quarter of my expenses. That was huge."
As a Pullman Scholar, "I have much to be thankful for and I encourage all Pullman Scholars to remember those who helped them. Say, 'thank-you' to the Pullman Foundation and write a check and provide your service and time to the next generation of Pullman Scholars."
For Julissa Garcia, her family home is more than just the house where she was raised. It's a symbol of who she is, what she has accomplished, and who she knows she will become.
Julissa's parents grew up in a small farm village in Mexico where they raised livestock and grew agave. Their belief in hard work, perseverance, and opportunity, values they imparted on their three children, led them to settle in Cicero, Illinois, where Julissa was raised. "My father was the first of his siblings to move to the U.S.," Julissa recalls. "He would always point out that the best thing he could give us was this chance to pursue the American Dream and become educated. 'A ser educado es tenerlosmejores oportunidades—to be educated is to have the best opportunities,' he would tell my sisters, my brother, and me."
"To be educated is to have the best opportunities."
As a student at Morton East High School, Julissa took her father's words to heart, pushing herself by taking advanced placement courses in biology and engineering and earning college credits. Her hard work paid off. She was awarded a Pullman Foundation Scholarship to study at University of Illinois at Chicago (UIC), graduating this past May with a bachelor's degree in bioengineering.
"The day I graduated from UIC was not only my accomplishment but also the realization of my parents' dream for their children to get an education. My parents laid the foundation, but I would not have been able to accomplish my goals without the help of my family and the Pullman Scholar Community."
Having recently graduated and accepted a position as a post-market regulatory engineer, Julissa is already thinking about the next generation. "In addition to the younger Pullman Scholars I have gotten to know, I have two nieces, Emily and Elise. I want them and the younger scholars to know that if I accomplish my dreams of becoming a bioengineer, they can also see their dreams become a reality."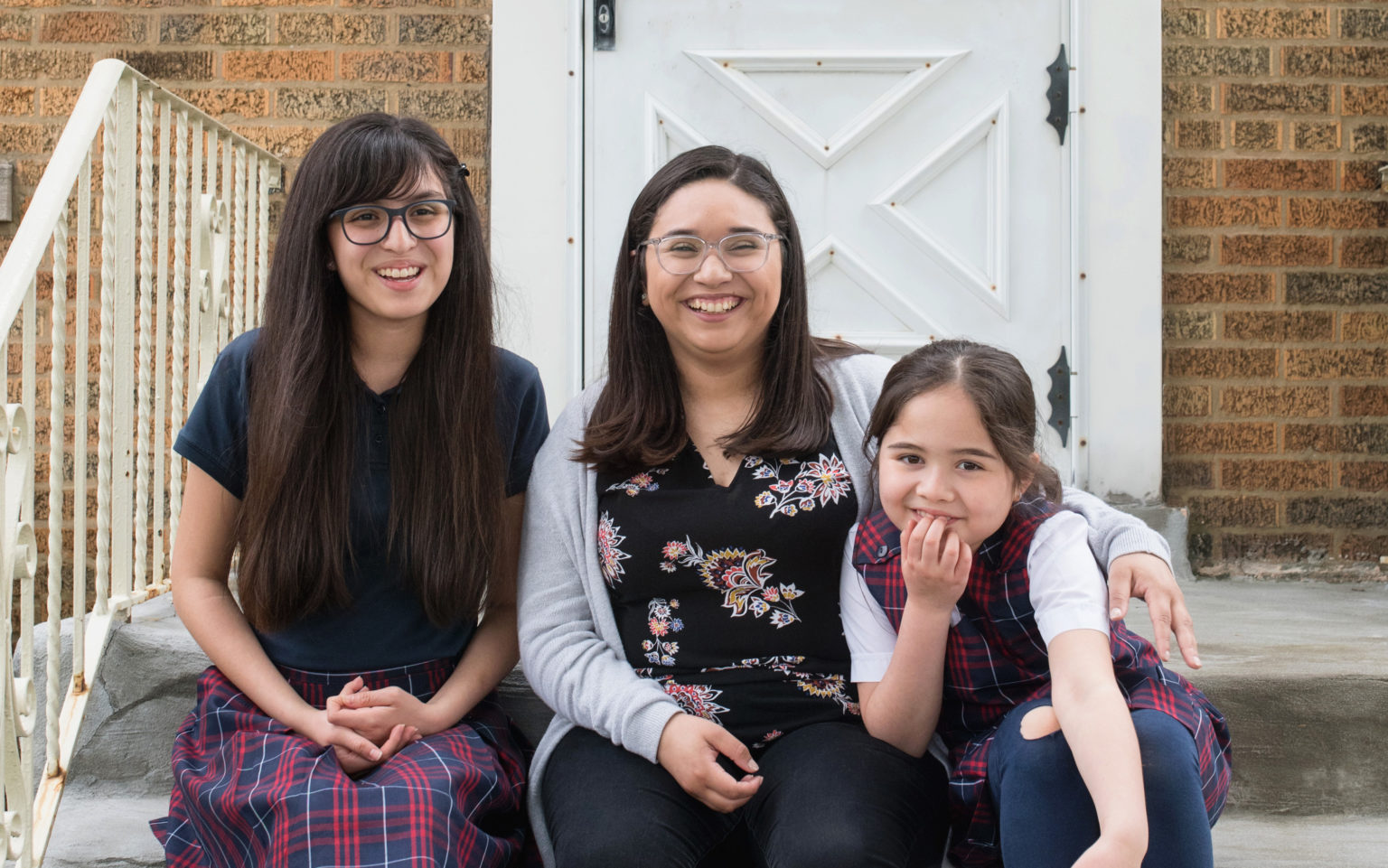 "My dream of becoming a bioengineer could not have been realized without the support of my family and my community. I hope to inspire the next generation to achieve their goals in the same way that my family and my community inspired me."
When an eighth grader watches his mother make cabbage and sees the chance to create a scientific indicator, then you know that child is destined to become a chemist.
Today Peter Stang (DePaul University '63) still experiments and invents … on a scale that's earned him National Academy of Sciences membership as well as countless national and international awards, including the National Medal of Science and four honorary doctorates.
But he's walked a complicated path between then and now.
Stang was a teenager during the 1956 Hungarian uprising against Soviet rule. "The revolution was successful for a few days," he recalls. "Then one night my father, who spoke English, was listening to the BBC on the radio. They reported that three Russian divisions had crossed the border into Hungary. My father announced: 'Tomorrow, we leave.'"
That night the entire family – Stang, his parents, and two sisters – packed a few things. They caught a westbound train in the morning and disembarked that night to start a 25-mile trek across the Hungarian/Austrian border on foot.
Ultimately, they found their way to Chicago. "I arrived here during my sophomore year in high school," Stang recalls. "I spoke no English, and I failed American history and English … but I was at the top of my class in math and science."
"A $500 scholarship may not sound like much today – but back then it made a huge difference to us."
Stang's scientific acumen earned him a spot in DePaul University's freshman class, and the George M. Pullman Educational Foundation made it possible to accept the offer. "I'm sure my father didn't make a lot of money as a security guard, and he and my mother had three kids to educate," he says. "A $500 scholarship may not sound like much today – but back then it made a huge difference to us."
After graduating, Stang earned two prestigious National Institutes of Health fellowships that took him first to the University of California (Berkeley) for his Ph.D. and then to Princeton University for his postdoctoral work. Today he is distinguished professor and David P. Gardner Presidential Chair of organic chemistry at the University of Utah.
A luminary in his field, Stang most recently earned accolades for his work with a team that invented, developed, and systematized a way for small organic molecules to self-assemble into larger geometric shapes. These compounds show promise for one day shrinking tumors and detecting explosives.
Stang attributes his success to hard work and good fortune. Despite a harrowing journey that transplanted him from his Hungarian hometown of 900 to a large American city where he didn't speak the language, he never lost sight of his priorities. With the help of his Pullman Foundation Scholarship, he was able to shape his life's work around his extraordinary gift for scientific exploration. "You do your best and hope for some luck," he says. "Awards are auxiliary. The most important thing is to follow your passion."
The new tax act passed in 2017 brought with it many changes to how you might file your taxes next year. This has led some to ask, "Will I still be able to deduct my charitable donations?"
Whether if you itemize your taxes or claim the standard deduction next year, there are unique ways in which you can maximize your giving. Last year, the Pullman Foundation reclassified its status with the IRS to become a 501(c)(3) private operating foundation. Not only does this classification mean that we are now committed to spending at least 85% of our annual budget on scholarships and educational support, but it also allows the Foundation to receive new types of gifts.
Bequests
Memorialize your philanthropic interests and your legacy while providing for the next generation of Pullman Scholars by making a bequest to the Foundation for a specific amount or percentage of your estate. The Foundation recognizes bequest donors as part of the Foundation's John H. Munger Planned Giving Society.
Donor-advised funds
Establishing a donor-advised fund may allow you to claim one large charitable gift deduction this year even though you advise annual gifts from your fund to support the Pullman Foundation over several years. Many funds can be established with as little as $5,000. If you already hold a donor-advised fund at a charitable trust (e.g. Fidelity, United Way, Schwab Charitable), please consider recommending grants from you fund to support the George M. Pullman Educational Foundation.
Charitable gift annuities
This type of donation is a way to make an extraordinary gift to support Pullman Scholars and receive a steady income for yourself or others for life. Learn more by contacting the Foundation office.
IRA charitable gift rollovers
Donors at least 70 ½ years of age can make a gift directly to the Foundation from their IRA without needing to claim the gift as taxable income. IRA charitable gift rollovers, up to $100,000, can be used to satisfy your annual minimum distribution. Whether if you itemize your taxes or claim the standard deduction, you can benefit from donating rollovers.
Retirement accounts and life insurance policies
Keep the American Dream on Track for today's and future Pullman Scholars by naming the Pullman Foundation as a beneficiary of your 401(k), 403(b), IRA, other retirement account, or life insurance policy.
Stocks and securities
Savvy investors can maximize their philanthropy by donating gifts of appreciated securities. In addition to being able to claim a charitable gift deduction on donated stock, you avoid paying capital gains tax. Speak with your investor for more information.