Meet Pullman Scholar Marco Leyva, an economics major at Dominican University, '15.

Three words Marco feels best to describe his personality: Positive, creative, and rational
A lesson college has taught Marco (outside of the classroom): Being away from home has made Marco realize that the interactions people have with one another are the most valuable. It's the little things that matter.
Initially, Marco Leyva didn't have his sight set on an economics major, but he became hooked on the subject when he took a class during his first year of college. Since then, he's poured his time and efforts on the subject. "I signed up to take the Financial Markets and Institutions course my sophomore year without realizing what I was getting into. I was the only sophomore in this class full of seniors. I was intimidated at first, but I decided to stay. It was a ton work, and possibly the hardest course I have ever taken, but I ended up doing extremely well, and it felt amazing."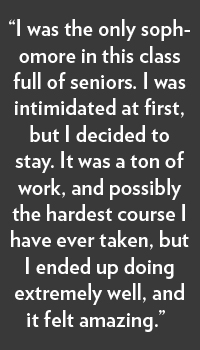 In the fall of 2013, he was selected as the Treasury Management Association of Chicago's (TMAC) intern, where he assisted the university's controller with risk analysis and financial statements. By attending one of the monthly TMAC meetings, in which treasury professionals gather to learn about treasury-related topics, Marco obtained an internship with Treasury Strategies — the leading consulting firm in the treasury field. With one more year of college left, Marco aspires to obtain an analyst position where he can immediately contribute as well as continue to learn.
Outside of his studies and internship work, Marco enjoys playing the grand pianos scattered across Dominican's campus and learning new musical pieces. He is also passionate about horticulture. From learning about sustainable practices to composting to gardening in his backyard, he can't get enough of working with plants. He looks forward to the summer months so he can reconnect with nature.
During his time at Dominican, Marco has also volunteered in a mentoring program with Big Brothers Big Sisters of Metropolitan Chicago. He decided to volunteer because as the oldest of his siblings, he sometimes wanted an older sibling when he was growing up, especially since English was his second language. Marco enjoyed being partnered with a 5th grader, who he still keeps in touch with today.
Congratulations on your many accomplishments, Marco! We know you will be taking the economics world by storm one day!