Get to know our Pullman Scholar Michael Glynn,'19, an exercise physiology major at Marquette University.
In his spare time, Michael likes to:  Play sports (especially baseball); cheer on the Bears, Bulls, and Blackhawks; spend time with family and friends; and play with his golden retriever, "Sweetness," who is named after Walter Payton.
After rocking his first year at Marquette University with a 3.95 GPA, Michael is ready to tackle his second year as an Exercise Physiology major and is a direct admit in Marquette's Doctorate of Physical Therapy Program. After taking an interest in biology during high school, Michael began looking into the healthcare field. He shadowed a physical therapist at the Illinois Bone and Joint Institute and decided to pursue this career because he wants "to inspire patients and make a difference in their lives" while thinking critically when assessing injuries. Through hard work, dedication, and communication, Michael hopes to be a successful physical therapist and potentially have his own practice.
Although Michael is thriving at Marquette now, he reflected that his first month of college was challenging because he missed home and found his classes more difficult than expected. However, his dad always taught him not to feel sorry for himself and do his best with everything. Michael pulled himself together and worked extremely hard in school, studying for hours every day. Applying the lessons his father taught him helped Michael during this emotional and transitional period in his life.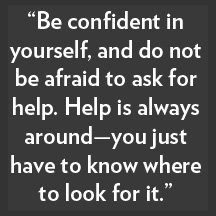 With one year of college under his belt, Michael shared this advice with the Foundation's newest class of Pullman Scholars:
"Branch out and develop a strong work ethic. It can be intimidating to introduce yourself to professors, advisors, teaching assistants, and other authoritative figures. Even if you just stop by office hours, you will usually find that professors are willing to help students, and they are interesting to have conversations with. College is by no means easy, no matter what major you have. Be confident in yourself, and do not be afraid to ask for help. Help is always around—you just have to know where to look for it."
Thank you for the great advice, Michael! Keep up the great work at Marquette!