Current Pullman Scholars and all 31 of the new scholar cohort attended our third annual Pullman Scholar Symposium on May 20, 2016, dedicated to developing our scholars' financial literacy, life skills, and professional expertise, while building a stronger Pullman Scholar Community.
Based on scholar feedback from last year, this year's sessions were made as interactive as possible. The symposium began with an inaugural Pullman Scholar keynote speech given by Corie Wilkins, a 2016 graduate of the University of Missouri. Corie discussed the ups and downs throughout his college experience and how he continued to overcome adversity, grew to believe in himself, and used resources to reach his goals. Scholars shared that listening to his journey was relatable, and Corie reiterated that no Pullman Scholar is alone, and offered strategies for success.
Another inaugural opportunity for our scholars at the symposium was leading a session. Nine Pullman Scholars planned and facilitated sessions — two scholars worked with session facilitators from last year to add a more student-centered focus and share their experiences, four scholars facilitated a panel discussion about finding and making the most of opportunities, and two scholars facilitated a core conversation about how to make influential, positive changes in their life, campus, and community.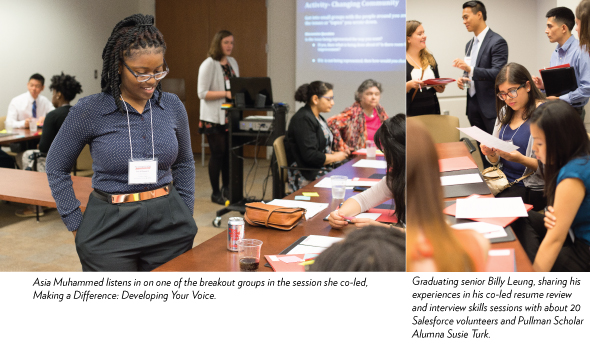 In the evening, scholars honed their networking skills during an interactive activity with more than Pullman Scholar Alumni and guests. Everyone was then inspired by keynote speaker alumnus Patrick T. Murphy, MS, Associate Director of Communications at the Midwest Augustinians, who spoke about his journey of finding his passion; philanthropy and helping people.
The day ended with a reception for current scholars, alumni and guests to grow their network and be inspired by each other.
Thank you to our alumni volunteers who helped throughout the day and everyone who was able to attend. It was a successful day of education for our scholars and an enlightening evening.
To experience the energy of the day, watch the recap video below: