By Jasmeen Wellere, Pullman Scholar.
"ScholarCon was one of the best experiences I have ever had!" This is what my National Collegiate Scholars chapter president, Jamal Sims, explained to us during my first chapter meeting. I was somewhat exposed to ScholarCon through a flood of emails when I joined the National Society of Collegiate Scholars (NSCS) as a freshmen and I just wrote it off as spam mail. During Jamal's presentation about ScholarCon is when it became "real" to me and not just a stream of emails. As our chapter became more active I began to seriously consider ScholarCon as an event I wanted to attend.
Unfortunately, the cost was overwhelming and our fundraising attempts failed, so I had to cross ScholarCon off my to-do list. It was disappointing, but my thought was that "there's always next year." Surprisingly, that opportunity resurfaced sooner than I expected! I received an email from Robin Redmond, executive director of the George M. Pullman Educational Foundation, stating that they were able to fund a trip for two Pullman Scholars to attend ScholarCon. I was flabbergasted and I just knew it was meant for me to go—I mean, what are the odds that this could be happening to me twice? I replied immediately and just prayed that I would be chosen. (more…)
The George M. Pullman Educational Foundation helped Tom Meagher attend college. Now he's giving back.
At age 70, Tom Meagher has the luxury of reviewing a life well lived—a loving family, a fulfilling career, a retirement characterized by good health and financial comfort. You get the feeling he wouldn't change much if he had to do it over again.
It might have turned out differently. His father, a diabetic, died at 34, leaving Meagher's mother to take care of 6-year-old Tom, his 8-year-old brother, and 2-year-old sister. The kids toughed it out in public schools near their home at 75th and Damen on Chicago's South Side. The path of least resistance, when he graduated from Calumet High School in the early 1960s, would have been to get a blue-collar job, punch a clock, and contribute to the family budget. This could have been a fine life.
But Meagher, who liked math and science, had other ideas. He wanted a college degree. His mother encouraged him. His grandmother helped him complete applications. The University of Illinois at Urbana-Champaign welcomed him aboard. (more…)
The handwriting is neat and legible, the tone modest but confident. The message is of an ambitious high school senior intent on becoming a doctor, who knows she must persuade someone to help pay the considerable college expenses that such a goal will require.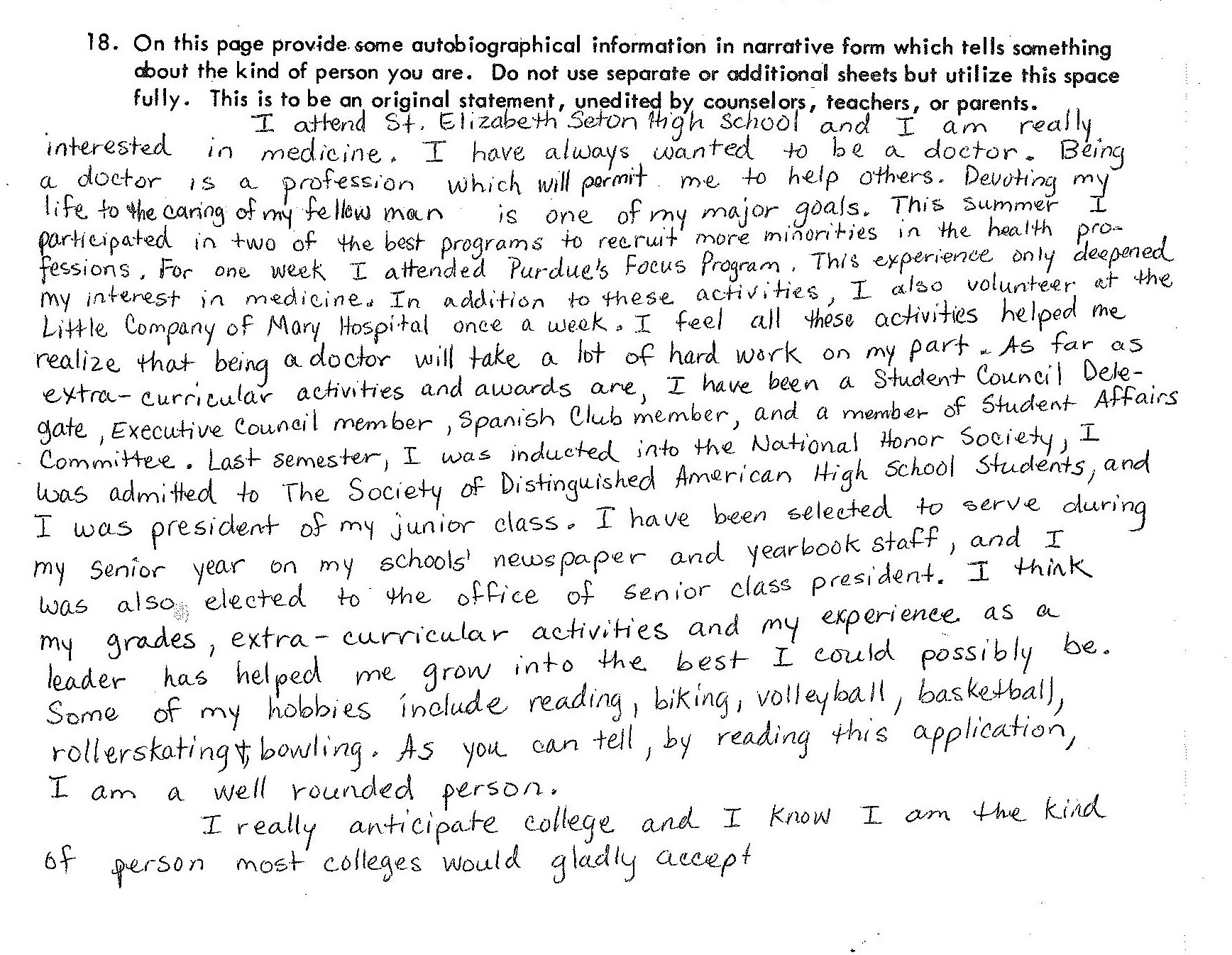 By the standards of handwriting analysis alone, Sabrina Kendrick's 1981 application for a scholarship from the George M. Pullman Educational Foundation would probably have been approved. Everything communicated in the essay—her high school accomplishments, her organizational skills, her ability to list achievements without seeming boastful, her bold ambition—is reflected in the person she is today, a veteran infectious disease specialist at Stroger Hospital (a public, urban teaching hospital in Chicago) and an assistant professor of medicine at Rush Medical College.
(Click on the essay to view a larger version.) (more…)