The George M. Pullman Educational Foundation helped Tom Meagher attend college. Now he's giving back.
At age 70, Tom Meagher has the luxury of reviewing a life well lived—a loving family, a fulfilling career, a retirement characterized by good health and financial comfort. You get the feeling he wouldn't change much if he had to do it over again.
It might have turned out differently. His father, a diabetic, died at 34, leaving Meagher's mother to take care of 6-year-old Tom, his 8-year-old brother, and 2-year-old sister. The kids toughed it out in public schools near their home at 75th and Damen on Chicago's South Side. The path of least resistance, when he graduated from Calumet High School in the early 1960s, would have been to get a blue-collar job, punch a clock, and contribute to the family budget. This could have been a fine life.
But Meagher, who liked math and science, had other ideas. He wanted a college degree. His mother encouraged him. His grandmother helped him complete applications. The University of Illinois at Urbana-Champaign welcomed him aboard. (more…)
The handwriting is neat and legible, the tone modest but confident. The message is of an ambitious high school senior intent on becoming a doctor, who knows she must persuade someone to help pay the considerable college expenses that such a goal will require.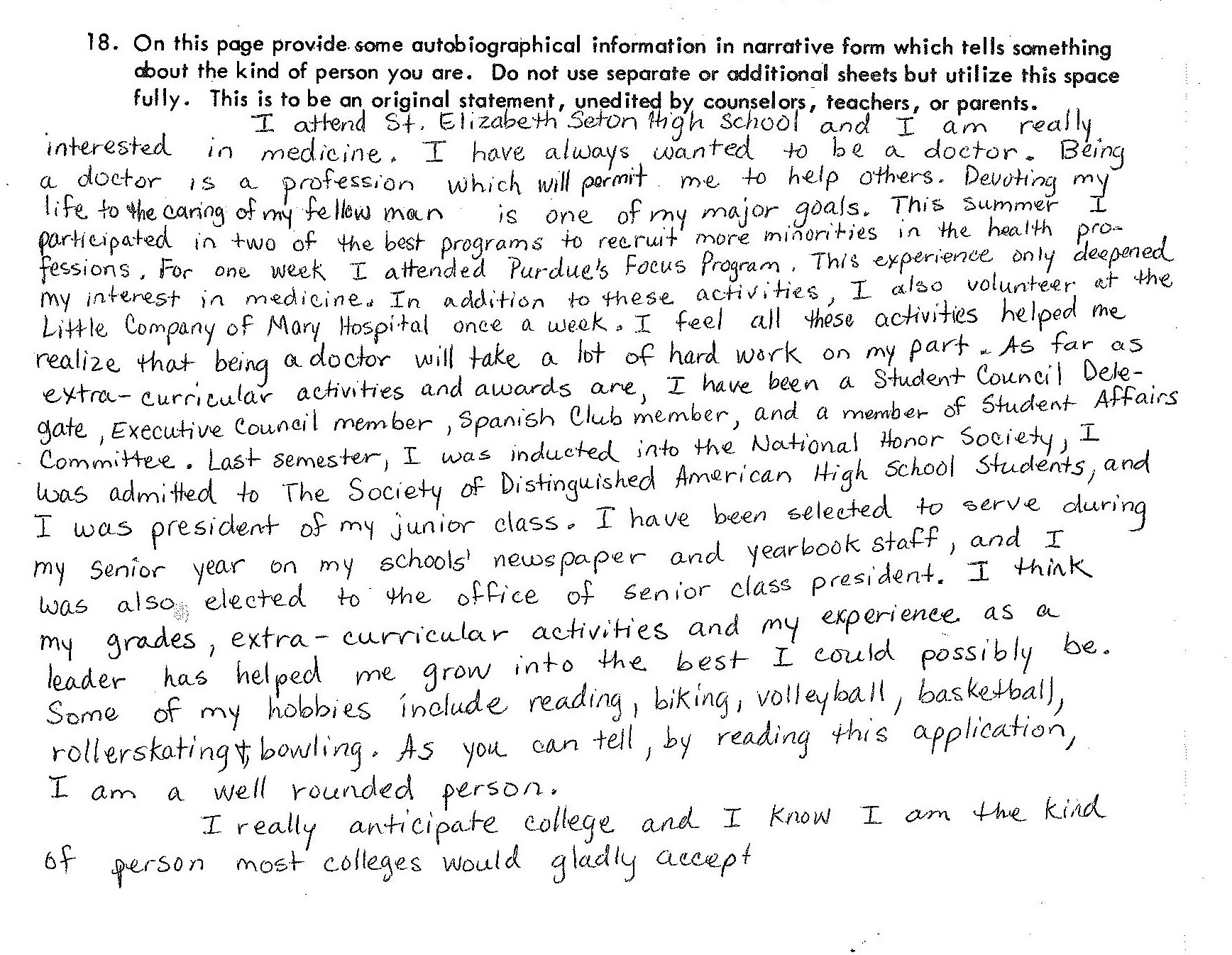 By the standards of handwriting analysis alone, Sabrina Kendrick's 1981 application for a scholarship from the George M. Pullman Educational Foundation would probably have been approved. Everything communicated in the essay—her high school accomplishments, her organizational skills, her ability to list achievements without seeming boastful, her bold ambition—is reflected in the person she is today, a veteran infectious disease specialist at Stroger Hospital (a public, urban teaching hospital in Chicago) and an assistant professor of medicine at Rush Medical College.
(Click on the essay to view a larger version.) (more…)
Pullman Scholar Alumna Bethsaida Arroyo Forges Her Own Path.
All things considered, it would have been easy for Bethsaida Arroyo not to attend college. Her grandparents didn't make it through grade school, and her mom earned her GED only after Betsy was in 6th grade.
"She got pregnant at an early age and had to drop out of high school to raise us," said Arroyo. "But she understood the importance of education and pushed us all to go to school. College was ingrained into my head in grade school."
That was Andersen Elementary, the neighborhood school at Honore and Division streets which is now LaSalle II, a magnet school.
"In 8th grade, I was reading at the college level," she said. "Not a lot of my high school friends went to college, but all of my grade school friends did."
And once at Wells, the neighborhood high school, she hardly broke a sweat. "I wasn't a test-taker," she said. "I didn't try to study. I'd wing it. High school was a breeze for me." (more…)
An immigrant's tale
Nadia Horb learned early how to think on her feet. She was born in 1946 in a displaced persons camp in Germany, where her parents were sent after being uprooted from their home in Ukraine and forced to work on German farms during World War II. As a toddler, she moved with the family to Paris. When she was 11, they decamped for Chicago where, contrary to popular European notions, the streets were not paved with gold.
In America, Horb, the oldest of six children, became a survivalist in an immigrant's sense of the word. She was the first to learn the new language, the new customs, the mysterious habits and expectations that come with a new country.
Her father–Berezecky was the family name–opened a small grocery store in a Ukrainian neighborhood and depended on his young daughter for her rapidly acquired English language and management skills. The early years were lean. Spaghetti with milk was a typical supper. (more…)
There was no doubt that Marcus Woods would go to college. And thrive there. His mother, Sheila, pretty much required it. But for an only child growing up in a single-parent family near 77th and Bishop streets, having a will didn't necessarily guarantee having a way.
When he was 14, Woods and his mother moved to the south suburbs so he could attend Thornwood High School in South Holland.
"The way I looked at it," he said, "and the way my mom sold it to me, it was an opportunity to re-invent myself. We wanted a fresh start."
The "re-invention" hardly broke a sweat academically, excelling in math and science and deciding, early, on a career as a structural engineer. Which, today, 14 years later, he is.
"My mom made the decision I'd go to college," he said. "But the institutions I wanted to go to were very expensive. Coming from a single-parent family, I knew scholarships would be the only way I could attend the college of my choice." (more…)
Pam Bloomquist recently experienced a moment of Pullman Scholar serendipity. She is assistant dean of law admissions and financial assistance at Loyola University Chicago School of Law, and she and a longtime co-worker were riding the elevator together when Bloomquist happened to mention that she is a Pullman Scholar ('74). Her colleague's eyes immediately widened and she exclaimed, "I'm a Pullman Scholar, too!" The two colleagues immediately began discussing how they could locate and interact with their fellow Pullman Scholars.
Bloomquist already had a history of supporting the Pullman Scholars who came after her. A long-time donor to the George M. Pullman Educational Foundation, she began serving on the Scholar Selection Committee in 2012. She says of this experience, "Pullman Scholars are not only selected on the basis of academic ability and financial need. They are chosen for their character traits as well. It's a privilege to able to meet so many deserving young people." (more…)
Five Pullman Scholar Alumni share how the Pullman Foundation impacted their lives.
"I am a graduate of Wendell Phillips High School (in Chicago's Bronzeville neighborhood) and Northwestern University. I grew up in the Ida B. Wells Homes and the Clarence Darrow Homes (former public housing projects in Bronzeville ). I am one of seven children and the first to attend college. Without the Pullman Scholarship I would not have been able to afford to finish college. I went on to receive a master's from Boston University and a J.D. (juris doctor, a law degree) from Boston College. I recently retired from serving as a juvenile court judge after 20 years."

-Leslie Harris, J.D., Northwestern University
"My mother's family arrived in northern Indiana from Holland in the late 1850s to find fertile farmland ideal for starting their new life as American farmers. But as often happens, the first generation after their arrival decided to break out in many directions, a few of whom ended up on the south side of Chicago working for Pullman. I don't have all the details of what jobs they performed, or whether they lived in Pullman houses or shopped at the Pullman stores, or if they were around for the famous strike, but I do know they settled there for generations. Even in my childhood in the 1970s, we used to visit many of my older relatives that still lived in Roseland.

In the late 1980s, I benefited from Mr. Pullman's foundation, whose scholarship helped fund my undergraduate education at Bucknell University from 1988-92. More than a century after my first ancestors began working for the Pullman Palace Car Company, his legacy was still having an impact on my family and me. Today, I work with the Foundation donating my time, financial support and expertise to help ensure that legacy continues for the next generation of worthy scholars from Cook County. In the end, some may view George Pullman as a heartless capitalist exploiting workers, but that narrow view misses the dramatic influence this early Chicago industrialist had on our city, our culture and on the lives of thousands of people in Chicagoland and around the world – an influence that extends long beyond the life of George Pullman or the company he founded."

-Jeff Tryka, CFA, '92, Bucknell University
"In 1970, I was one of the fortunate recipients of a Pullman Foundation scholarship which allowed me to attend Washington University in St. Louis. Having grown up on the south side of Chicago I am proud of this Foundation and its mission.  I am impressed with the caliber of students who are selected for these awards and only wish that there were more funds available to support more students in their academic endeavors.  The daughter of George Pullman has created a wonderful legacy in memory of her father."

– Margaret Marek Rohter, MPH,CPHA,LEHP, '73, Washington University in St. Louis
"The Pullman Scholarship could not cover the cost of tuition at Northwestern, but their gift certainly made a difference to me in so many other ways. They made me feel important and worthy. Their gift was a form of unanticipated support that came when I needed support the most. That support has stuck with me 40 years later, inspiring me to start my own foundation – an arts foundation, which aspires to inspire others, and impact them in a way that makes them feel the way that the Pullman Foundation made me feel."

-Andrea J. Fulton, '83, Northwestern University
"My grandfather came to the U.S. before the turn of the 20th century and was employed as a tradesman at the Pullman works in Roseland. Although I never knew him, my father always talked about the Pullman factory, the lay-out of the community and the splendor of the Hotel Florence.

During my youth I was surrounded by the Pullman community. Mendel CHS (formerly Pullman Tech) was school to many of my friends. Gatley Stadium was home to most of my high school football games. The shadows of the Pullman factories were a constant reminder of the powerful empire that was once in my backyard.

Fortunately, the Pullman legacy has continued through the Pullman Educational Foundation. The Foundation was there for me when I needed financial assistance for my college education. As a direct relative of a Pullman Co. employee I was able to qualify for a Pullman Scholarship. I received 4 years of aid which significantly eased the financial burden on me and my parents.

Today, my two children receive financial assistance from the Pullman Foundation for their college education. We now have 4 generations that have benefited from the Pullman legacy stretching over 12 decades."

-Richard J. Meliska, C.P.A., '74, MacMurray College